We Help Businesses Grow
Their

Identity Online.
Website design in Cyprus. We Help Businesses Grow Their Identity Online
With 15 Years of Web Marketing that works for your success. We Craft Websites that keep your visitors excited and engaged.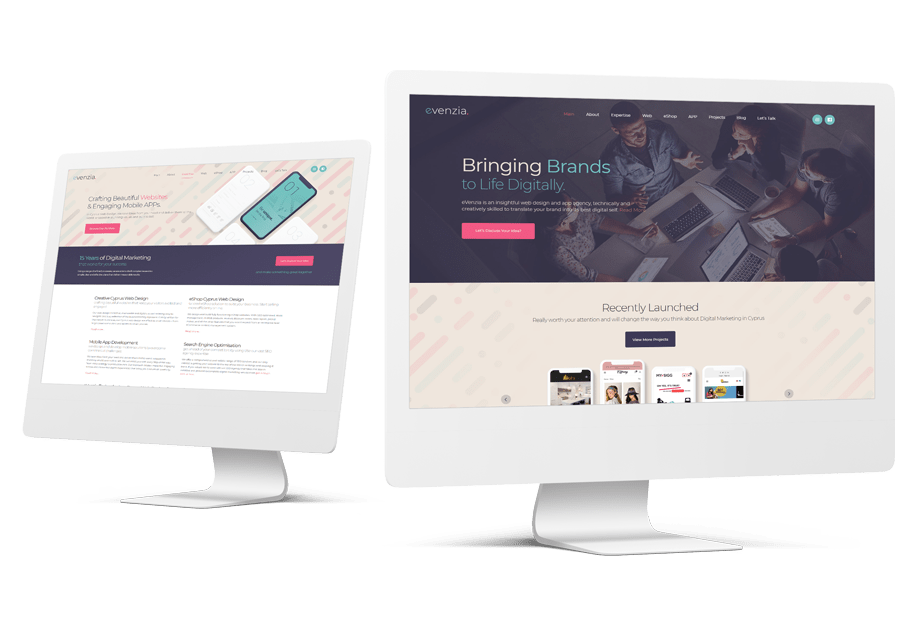 Creative Web Design in Cyprus
with 15 Years of Web Marketing that works for your success
Whether you need a new website, or you want to improve an existing one, we approach each of our projects with a passion for innovation and imagination creating high quality, high performing digital experiences that turn your website in to a marketing machine that gets long-lasting, tangible results for your business. Our web design is creative, memorable and stylish, as well as being easy to navigate and truly reflective of the businesses they represent. We are an experienced agency in Nicosia established in 2006 since then we've been building beautiful websites and helping businesses grow online.
Experienced Web Designers.
We have been working with WordPress for a decade, and you can benefit from our experience with the platform with our efficiency and guidance. We design websites that reflect your point of difference.
We want you to love your website design. We are here to work with you to capture your vision and share it with the world. With unlimited design revisions, we keep refining on the design until you've given us the thumbs up.
We've been designing websites for more than 10 years, so it's not our first rodeo. In this industry we found that experience does count in all areas, from design to functionality to work flow, hosting and support.
Clear brand message and marketing plan
You know what they say about failing to plan! Spending some time crafting your business branding, identifying your target customer base and coming up with a basic digital marketing plan will really get your new business website off on the right track, and save a lot of extra work down the line.
Work with experienced graphic designers who can come up with creative logo design and branding that really reflects your business and core brand message that you can utilise across all of your business assets, to help you stand out from your competitors.
A great logo and beautiful website design are just a part of successful online marketing for small business – after all, what good is an amazing website if nobody can find it! It's a good idea to start thinking about your ongoing digital marketing and search engine optimisation (SEO) from day one with the help of search engine marketing specialists, and determining your business goals when it comes to online advertising. 
Beautiful design and easy navigation
An experienced website designer will take into account your business identity, your target market and the goals you want to achieve with your website. A website should be designed to integrate your unique branding, offer a clean, modern interface, and importantly take into account user experience (UX).
Good UX principles dictate that a website should first and foremost have clear navigation, to help visitors easily and efficiently locate the information they're looking for. It should also have well-planned information architecture, meaning that all content is structured in a way that is logical and organised to give users a clear roadmap to locate the content they're after.
Compatible with mobile devices
Most of us access the internet on our smartphones these days while we're out and about to find information. Mobile-friendly website design means that your website will fluidly adapt the screen size on which it is being viewed, so potential customers can access your website easily on the go and can navigate to relevant information quickly, and even tap on a link to call you instantly.
Responsive web design is also crucial these days for good search engine ranking – Google recently updated its algorithms to favour websites that can be viewed on a mobile device, so making your you have a responsive website is vital!
NEXT STEPS:
Find out more About Us
Browse our Portfolio
Get in touch to find out more about why we do what we do and how we do it.
Like what you see and interested?