Businesses and brands have always understood how important it is to stand out. With the widespread adoption of the Internet, many have turned their focus to producing more informative, engaging digital content.
Though a good social media presence is key, businesses can always benefit from maintaining a blog on their website.
Even few short blog posts could make a big difference for your SEO. But if you've never written a blog post before, getting started could seem complicated.
In this guide, we'll share some helpful tips for writing a blog post that can help you site attract more organic traffic.
What Is A Blog Post?
A blog post is an individual entry or article written by an author for a blog. Blog posts can include content like text, images, infographics or videos, and are usually hosted on a blog section of a commercial website, or on a domain reserved for blogging.
Blogs posts are an efficient way to share information, interact with your audience, and increase your online visibility. For businesses, blog posts can focus any aspect of operation, from customer testimonials to recent achievements.
Ultimately, blog posts invite your audience to build a connection with your brand or business. But to build a dedicated audience, your posts must be well written, useful, and optimized.
Why Are Blog Posts Important?
Promoting your business is not an easy task, especially in a highly competitive digital marketing environment. Your blog is your dedicated platform to share on the topics that matter most to you and your audience.
Of course, you can still promote your products, services, videos, podcasts, interviews while creating content that is useful to your audience. But remember: your blog posts shouldn't read like sales copy — that isn't useful to the reader (or fun to crawl.)
Blogs themselves are incredible visibility tools. Blog content lives on your site, which encourages users to click through and spend more time engaging with it. When optimized well, your blog posts can help you rank for important keywords or qualify for a featured snippet.
Equally important, high quality and useful blog content makes you seem more trustworthy to users. They'll know to visit your website for answers to their questions or problems.
Each individual blog post is another invitation to search engine crawlers to crawl and index more of your site. You can treat blog posts like individual webpages when optimizing them, so it's important to customize their titles, meta descriptions, and images.
Basically: good blog posts can boost traffic, brand awareness, credibility, conversions, and revenue. But what exactly is considered a "good" blog article?
Creating A Killer Blog Post
Though topic will always vary, most successful blog posts are able to answer a question, solve a problem, or provide relevant information for a user query.
There's a lot of (good and bad) advice out there on creating successful blog posts. With time and careful measuring, you'll know what truly works best for you and your business.
Here are a few process tips we've learned while developing the Semrush blog:
1. Identify Your Target Audience
A good place to start is by defining your target audience — the people you want to see and interact with your blog post once it's up.
If you're a blogging pro, you likely already have built and learned a bit about your audience. If you've never written a blog post, you can turn to your website's analytics for a clearer idea of your audience driving your traffic.
Another great way to research your potential audience is competitor analysis. Sounds roundabout, right? In reality, your blog will likely have a few competitors when it comes to ranking and attracting organic traffic.
Competitor analysis allows you to see the keywords, questions, and phrases that drive organic traffic to them. This can help you determine relevant keywords and blog topics to write about later.
Our Competitive Research Toolkit includes powerful competitor analysis tools to help you get started. Enter your competitor's web address in the Domain Overview tool for a high-level review of your competitor's traffic, including their top organic and paid keywords.
The Organic Research tool shows you their website's top pages — review this for any popular blog posts with high traffic.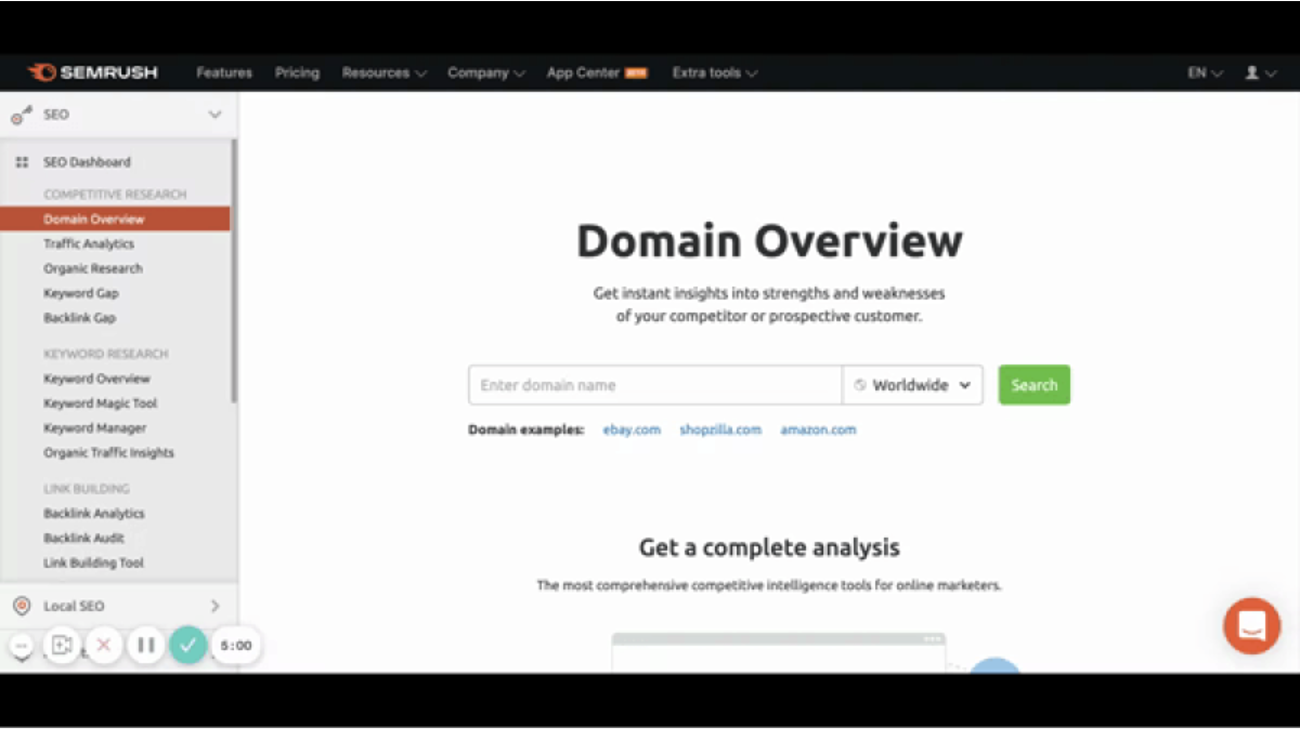 2. Pick an engaging topic and title
It's okay to keep this simple. You want a topic you can write comfortably about, and that your audience is already searching for.
Of course, there are no real limits when it comes to brainstorming topics. If it's about your business or helps your audience, it's likely worth writing about.
If you're not sure how to start brainstorming, there are plenty of tools that can help. Our Topic Research tool automatically generates "content ideas" around your targeted keyword. You can even see the popular questions and headlines related to your topic: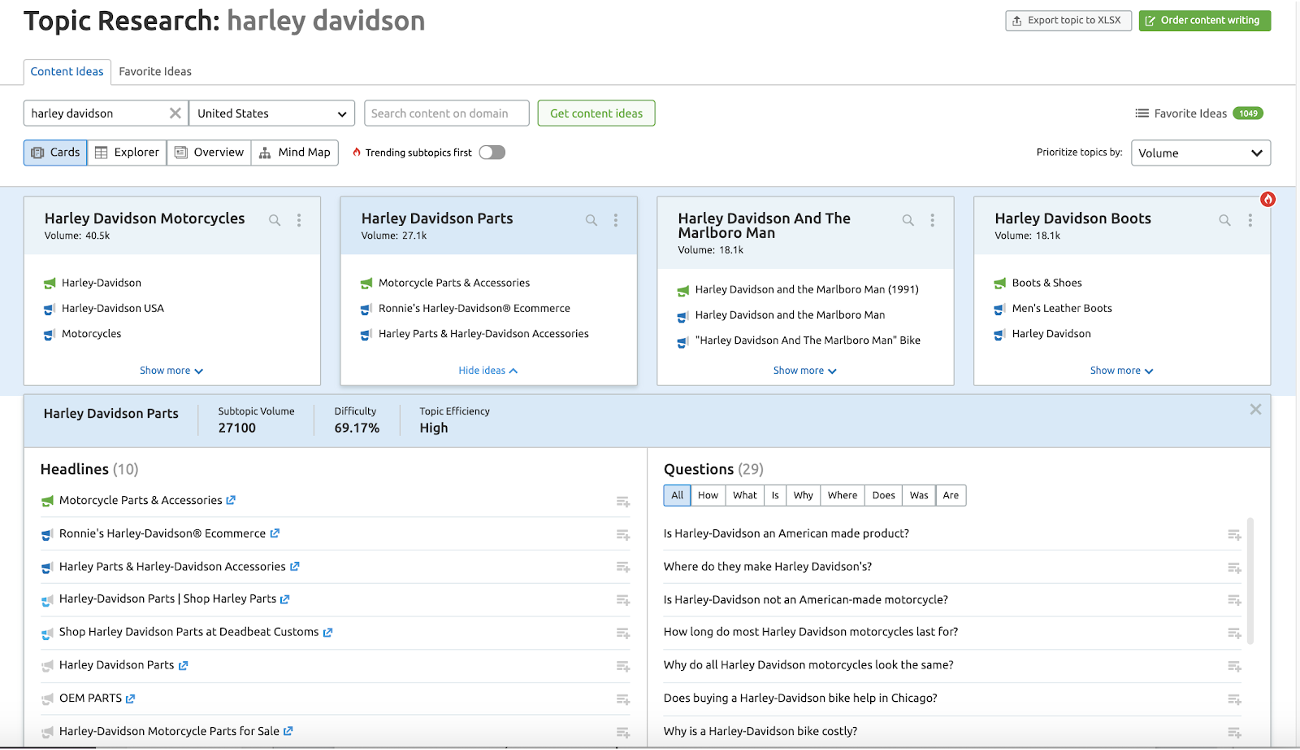 Speaking of headlines: if you struggle with brainstorming titles for your blog posts, the Topic Research tool can help with that too.
Use the Mind Map view to generate a list of suggested titles for your blog post, and questions you can answer with your content.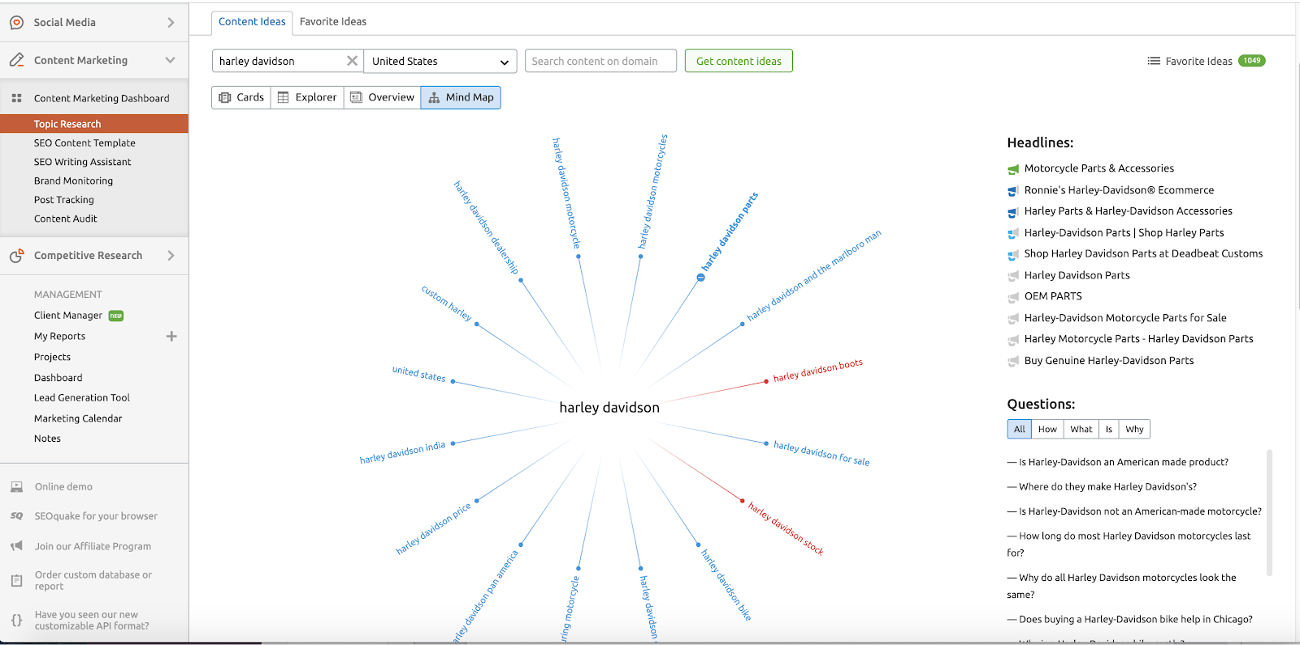 For blog posts, titles are pretty important. If your title isn't engaging, people won't feel inspired to click on it.
Your primary keyword should be present in your blog post's title — as well as its body, meta description, and URL. But avoid "keyword stuffing" — try using the keyword as you would in natural conversation.
Your blog post's title and body content will depend on your style and tone of voice. It helps to use subheadings to organize your content in a way readers and crawlers easily understand.
3. Organize Your Blog Post's Content
In its most simplest form, a blog post has an introduction, body, and conclusion. Your body can be further organized into sections with subheadings (H2, H3, etc).
The introduction is a critical element of the article. An eye-catching introduction convince readers to stay longer and read your post. Your introduction may also be used as an excerpt if your blog post is shared on social media.
Use the introduction to explain how the article will approach the solution to what the reader is searching for. This will give the reader a reason to continue reading your article.
Include your primary keyword in your introduction. This helps crawlers and readers understand what your blog post is about.
Subheadings
Using subheading tags (e.g. H2 & H3) is an excellent practice for good writing and SEO. Subheadings help search engines crawl your pages more effectively, and lets readers find the content they need quickly.
If your blog post is a book, subheadings are the chapters. Choose the ones that allow you to organize your content easily.

Using the example from above, if you were writing about "harley davidson parts," your subheadings might include "part types," "where to buy parts," or "average costs of parts."
Use Bullet Points
Again, if we want to write blog posts that are easy to read and crawl, we'll need to organize our content strategically. Bullet points are another method of displaying useful content.
Readers can skim bullet points to find their answers quickly. You can use bullets or numbering for lists, when documenting a process, or to break up content in shorter, more digestible paragraphs.
4. Use your Keywords in Your Blog Post
Your primary keyword can appear anywhere in your blog post — but focus on including it in your title, subheadings, introduction, and conclusion.
There's no hard or fast rule on how many times your keyword should appear in your post. Remember: we want to avoid keyword stuffing, so avoid the temptation to include it in places that are awkward to read or don't make sense.
Use our SEO Content Template tool for SEO-friendly pointers before writing your content. The tool generates a template of recommendations based on your target keywords. This template provides recommendations about text length, readability score, semantically related keywords to include, potential backlink targets and more.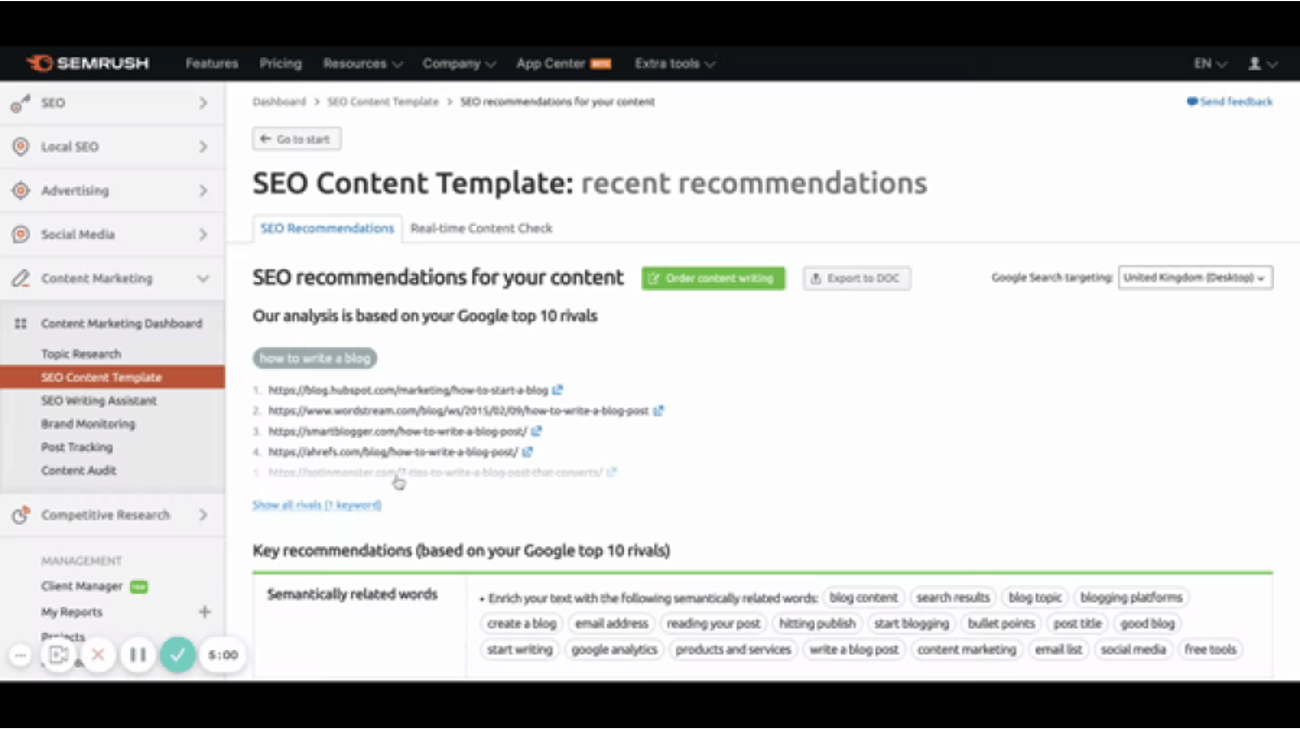 5. Optimize Your Blog Post Before Publishing
Try to optimize each blog post as much as your blogging platform allows. Optimizing your blog post's individual SEO is a crucial step to improving your search rankings.
Our SEO Writing Assistant is a powerful optimization tool for preparing content for publication. When you've finished writing your content, you can use this tool to improve your blog post's SEO in real-time. Simply paste your copy into the Quick Checker to receive tips to improve your post's readability, tone of voice, and SEO quality.
Check out more of our blog SEO tips for a more in-depth review of blog SEO.
Types Of Blog Posts
A blog post's performance is based foremost on its relevance and creativity, but elements such as word count, structure, and visuals (like images, videos and infographics) are important too.
According to this study, long-form texts (7,000+ words) see better performance as they generate almost four times more traffic than articles of average length (900-1,200 words).
Here are three common post formats that work well for popular blogs:
Lists
It's not a surprise that everyone likes reading lists. People process information presented in a list far more quickly than in long-form text.
Lists are a great way to simplify information in an easy-to-share format, and they let the user easily choose what they want to read. Lists are a good way to get organic traffic and are more likely to go viral than other types of articles.
Research by Global State of Content Marketing Report 2020 concludes: "Blog posts that contain at least one list per every 500 words of plain text get 70% more traffic than posts without lists."
The How-To Post
Many people search online to discover how to do something. People use search engines to find solutions to their problems, like "how to make flan" or "how to fix a vase."
This type of blog post is an opportunity to show potential customers that you are knowledgeable about a specific topic. If your information is relevant, they'll be more likely to revisit your website for future content needs.
How-to and tutorials posts increase your credibility and expertise and get your visitors to trust your content.
Checklists and To-dos posts
Checklists and to-do posts are similar to "how-to" lists but with a major difference: their goal is to guarantee nothing is forgotten.
These articles tend to focus on how to do something more accurately. They work as a quick and efficient guide when your audience is short on time.
You can even create a to-do list template and share with your audience via download. Providing a useful resource is another way to build trust with your audience.
Tracking Content Performance
After writing a good blog post, how do you know if your hard work's paying off?
Page traffic is one of the many metrics considered for the performance of a post. But traffic alone isn't everything. If someone visits your website but doesn't find the content useful, they will leave the page quickly to find something else.
In that case, a page view doesn't mean positive performance. You'll need to track different metrics to add context to your traffic data and understand how your audience is engaging with your content.
Consider these questions when reviewing your traffic data:
"How long do users stay on the page?"
"Did they visit other pages after viewing the article?"
"Did they share the content on social media?"
"Have they visited the website again?"
Similarly, there are blog metrics you can track in Google Analytics to measure your blog's performance, like:
Pageviews
Average Time on Page
Average Pages Per Session
Returning Visitors
Goal Conversion Rate
These metrics will help you make more informed about your audience's interactions with your site.
Final Thoughts
Writing your first blog post doesn't have to be a challenging experience. Sharing your expertise and knowledge with your audience is a good thing for your audience and for your SEO, so it's worth the effort to maintain a blog on your site.
When writing your blog post, start with research, organize your content, and measure your post's performance. Each step can help you better target your audience, write useful content, and improve your search engine rankings. 
Source: https://www.semrush.com/blog/how-to-write-a-blog-post/
What's your reaction?
0
Smile
0
Shocked
0
Cool