Content marketing, done right, can be one of the most powerful and cost-effective drivers of traffic and business growth online. With a solid strategy behind you, well-executed content can build your brand, set you apart from the competition and bring in highly qualified leads.
Nevertheless, there's nothing simple about creating world-class content. We've scoured the internet to find some of the best, most effective, and creative content marketing examples out there.
We've chosen these 26 examples for their originality, effectiveness, and their ability to inspire. We're certain they'll help you to develop your own voice and strategy and lead you in the direction of continued business success.
Read on and explore content marketing examples in the following areas:
Interactive content marketing
Video content marketing
Social media content marketing
B2B content marketing
B2C content marketing
Creative content marketing
Blogging content marketing
Content marketing examples for 2021
This interactive content gets people involved and creates a buzz, which is why it's so effective in our eyes.
Interactive content marketing examples
1. Canva's Design school

We're going to kick things off with Canva. It's an online graphic design platform that allows anyone to craft professional images and animations for social media and blogs.
Canva has created its own design school, appealing to people who want to improve their graphic design skills — without having to pay for a degree.
Why we like it
Canva's Design School is an excellent example of educational and interactive content marketing. It not only teaches future users useful design skills but also highlights how practical and useful the platform is. Moreover, it's popular: Some of the courses on the platform boast over 100,000 students.
Our top takeaway
Canva educates the market with practical, transferable skills. There are a number of courses, appealing to people who want to continue learning, and it positions the platform as a leader in the design space.
Looking to improve your content production? Explore the Ultimate 2021 Guide to Content Development
2. L'Oréal Paris Signature Faces Virtual Makeup
L'Oréal Paris has long been an innovator in the makeup industry, with flashy lipsticks, subtle foundation, and a famous skincare range. But it's the brand's interactive Signature Faces content marketing that's really caught our eye this time.
Signature Faces uses artificially intelligent filters that allow you to test how different shades of lipstick would look on you, without having to leave the safety or comfort of your own home.
Why we like it
It's fun, easy to use, and highly practical during a time where people are less able to go out to the store.
Our top takeaway
L'Oréal puts it's clients' needs first. The brand understands the challenges of not being able to go to the boutique or store to test samples during the pandemic. Its elegant solution is remarkable, highly shareable, and encourages people to purchase a luxury product they might otherwise leave for another time.
3. IKEA's Hilarious Bernie Chair Look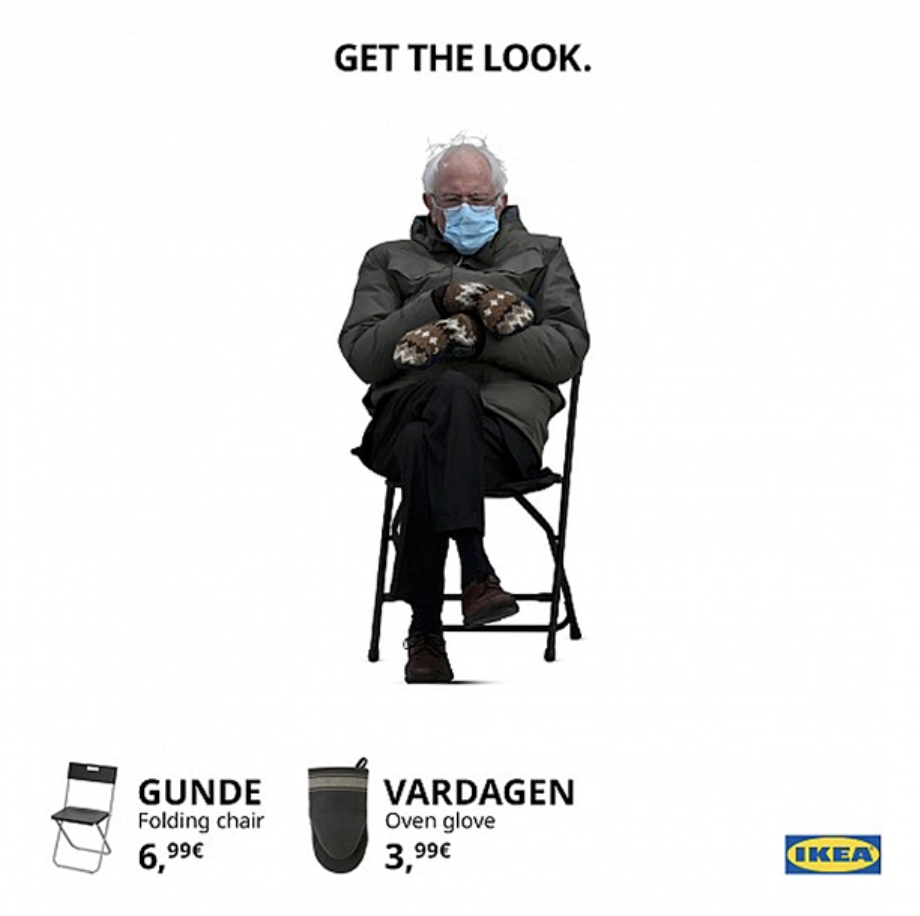 Senator Bernie Sanders had a viral moment after being snapped wrapped up snugly in an anorak and mittens, during President Joe Biden's inauguration ceremony. His look was shared millions of times across social media, often photoshopped to appear in increasingly more ridiculous situations.
Quick-thinking Ogilvy Greece created the promotion for Ikea, jumping on board to offer the Bernie chair, giving customers the chance to purchase his complete look.
Why we like it
The idea is creative and went viral, being shared on social media and mainstream media outlets — drawing lots of positive attention to the brand.
Our top takeaway
Ikea is creative and able to move quickly. Remember, speed is more important than perfection when it comes to newsjacking opportunities. Pay attention to viral moments and see if you can take advantage of them.
4. Starbucks' Interactive Artwork
Great coffee, good times, and augmented reality. Starbucks commissioned Accurat to create this incredible mural artwork for its flagship store in Milan. Etched in brass, it covers an entire wall and works in tandem with an augmented reality app. It serves as an interactive map that tells the whole brand narrative. Remarkable and unique, this isn't just marketing — it inspires customers to create their own content.
Why we like it
The attractive installation leverages augmented reality and helps customers feel more connected with the brand. It's truly an amazing experiential installation and — most importantly — completely unique.
Our top takeaway
Starbucks, with the help of Accurat, has done something out of the ordinary. And that makes people snap photos and tell their friends. It's the perfect Instagram fodder, but also something that will create a buzz for many years to come — especially as we will hopefully start going back to physical experiences.
5. MyHeritage: animated relatives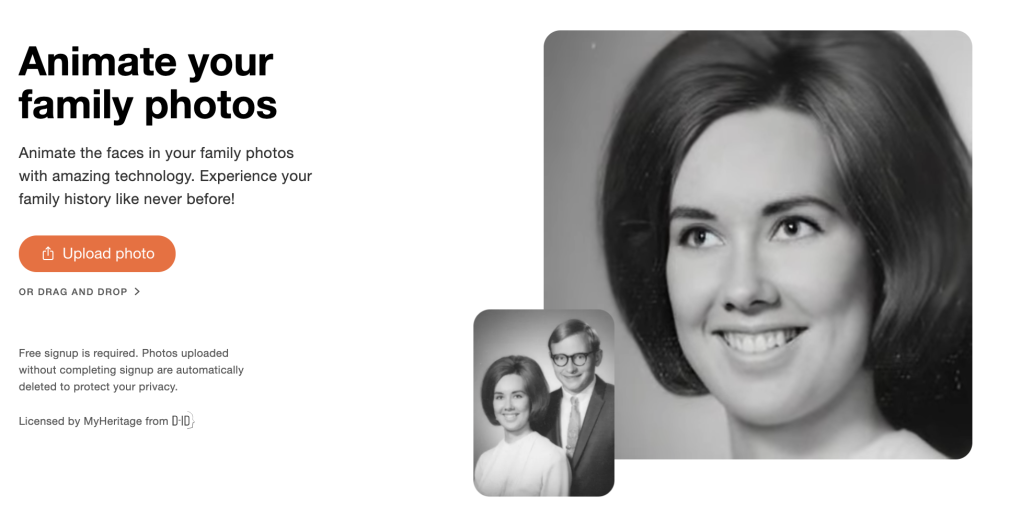 MyHeritage is an online service that allows you to build your family tree and do DNA testing to discover your roots. It thought outside the box and solved a problem we didn't know we had: What did our ancestors look like when they were talking?
My Heritage has created an amazing artificially intelligent app, which has now been used by the public to make more than 80 million animations.
Why we like it
It captured the imagination of the public and created a buzz around the service. On top of this, it uses cutting-edge technology, which adds to the novelty and makes it even more shareable — visitors to the coffee shop have downloaded the app more than a thousand times.
Our top takeaway
MyHeritage harnessed the latest technology to engage people's curiosity. They asked themselves the question: How could AI photo animation add value to our customers? And they hit upon a winner.
Video content marketing examples
Brands that invest in video content marketing see some exciting results in organic traffic, as these examples will show you.
6. Red Bull and Ski-flyer Valentin Delluc
Vallentin Delluc gives his audience a master class in how to fly on skis, in a short but breathtaking film from Redbull.
In the video, you'll see the athlete speed riding over a deserted French Alps resort. Featuring gorgeous videography and jaw-dropping stunts, this is hero-level content marketing in our books.
Why we like it
It's exhilarating and has received more than 700,000 views, lots of audience engagement in the form of comments — and there's total brand alignment. Redbull, after all, gives you wings.
Our top takeaway
Red Bull has taken the broadest conception of their brand identity and associated themselves with a daring athlete. The question is, can your brand connect its tagline to an appropriate but inspiring stunt?
7. The HOW Channel by Publicis Sapient
This well-produced, informative, engaging video content marketing from Publicis Sapient focuses on B2B and brand audiences.
During the pandemic, the company set out to "understand the world and the moment" and began creating top-level video content. You can find shorter pieces to more in-depth documentaries on the site — they're full of advice, ideas, and practical takeaways for companies. It's a real information hub and successful too.
Why we like it
The high level of product and breadth of topics is impressive — and it gets over 160,000 views a month, according to our figures. The company's mission is to be a digital transformation partner to organizations — and this video content marketing aligns perfectly with its overarching mission.
Our top takeaway
Ensure that your video content marketing efforts align with your brand strategy. Combine this with high production values and great topics and you'll be on to a winner.
8. Adobe: Honor Heroes
In just one minute, Adobe uses its YouTube Channel to honor key workers during the pandemic. It also shows off what you can do with its powerful creative suite at the same time.
Why we like it
Adobe pulls off a campaign that not only highlights key workers but also demonstrates the capabilities of its own suite of tools. It achieves this without appearing cynical or contrived. As a result, this video alone achieved more than 3.4 million views.
Our top takeaway
Adobe puts other people in the center of the action, lauding the heroic actions of others with a fitting tribute. It succeeds because it feels genuine and heartfelt. Can you create videos that do the same for your audience?
Social media content marketing examples
Social media platforms provide the perfect place to be creative, fun, connect with your audience, and share your values — as well as your product or service. Here are some top examples of social media marketing from a range of brands both big and small.
9. Burger King's Social Media Move
Burger King might not always get their social media right, but this emotional plea aims at supporting other restaurant chains and independent businesses during the pandemic and lockdown. It appeals because it is unexpected, especially when they ask you to order from McDonald's:
Why we like it
It's a little shocking — and for this reason, it got a strong reaction. With more than 40 thousand likes on this Instagram post alone, it clearly resonated with the public.
Our top takeaway
Burger King showed its human side and put solidarity ahead of brand pride. It's an interesting approach and might inspire some ideas. Can your brand bring emotion into your social media content marketing?
10. Seed Probiotics — a New Way to Talk about Science
Seed Probiotics is a microbial sciences company that aims to improve human and planetary health using probiotics.
The brand's content marketing strategy leverages Instagram and offers a master class in connecting with engaged followers and offering valuable information.
Why we like it
Microbial sciences isn't a common Instagram subject, yet Seed has over 130 thousand followers on their Instagram page. What Seed does just great is their way of engaging communities — be it influencers working with the brand or the actual customers. We also like the fact that Seed has a " university for influencers" — to become their promoter, you must show your commitment to learn.
Our top takeaway
Even bacteria look good in selfies. More seriously, the educational nature of the content has struck a chord with a health-conscious audience. How can your brand marry education with social media content successfully?
11. Cat Person — Embracing UGC
Cat Person has a clear value proposition — "Better food, better beds, better bowls. Delivered." But it's the user-generated content on Instagram that really gets your attention.
Why we like it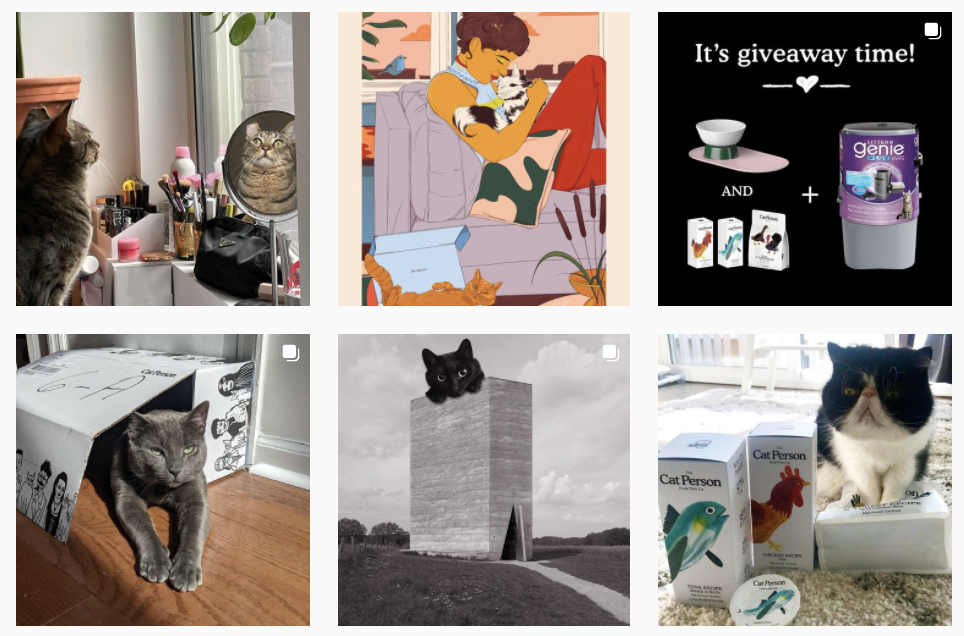 We all know the internet was made for sharing cat pictures. In this case, Cat Person encourages people to send in pictures of their own cats — in many cases, enjoying Cat Person products. The brand's feed is active but also notice just how often the brand is tagged.
Our top takeaway
If your B2C business lends itself to photography, running a social media content marketing campaign that encourages people to tag your product on Instagram is an awesome way to increase reach and brand awareness.
12. Linkedin International Women's Day
During the pandemic, women have lost almost twice as many jobs as men, according to LinkedIn. The social media platform not only brought this to our attention but also encouraged its community to support and "celebrate the women in their careers for International Women's Day" by sharing this video.
Why we like it
It's not just about the 1.5 million views this video generated — LinkedIn highlights community, supports a cause, and shares real voices. It's a perfect example of social media content marketing in our books.
Our top takeaway
Social media is an ideal place for a brand to share and demonstrate its values. It can also be used to highlight diversity and generate awareness and engagement around a cause that's important to you. While it might not bring in the leads right away, a great video like this can certainly impact your brand positively in the long term.
B2B content marketing examples
B2B brands often have a razor-sharp value proposition, content strategy, and mission statement — and when it comes across in content marketing, it can have a huge impact on lead generation. Here are some brands that take B2B content marketing very seriously indeed.
13. Lattice — an HR Community Hub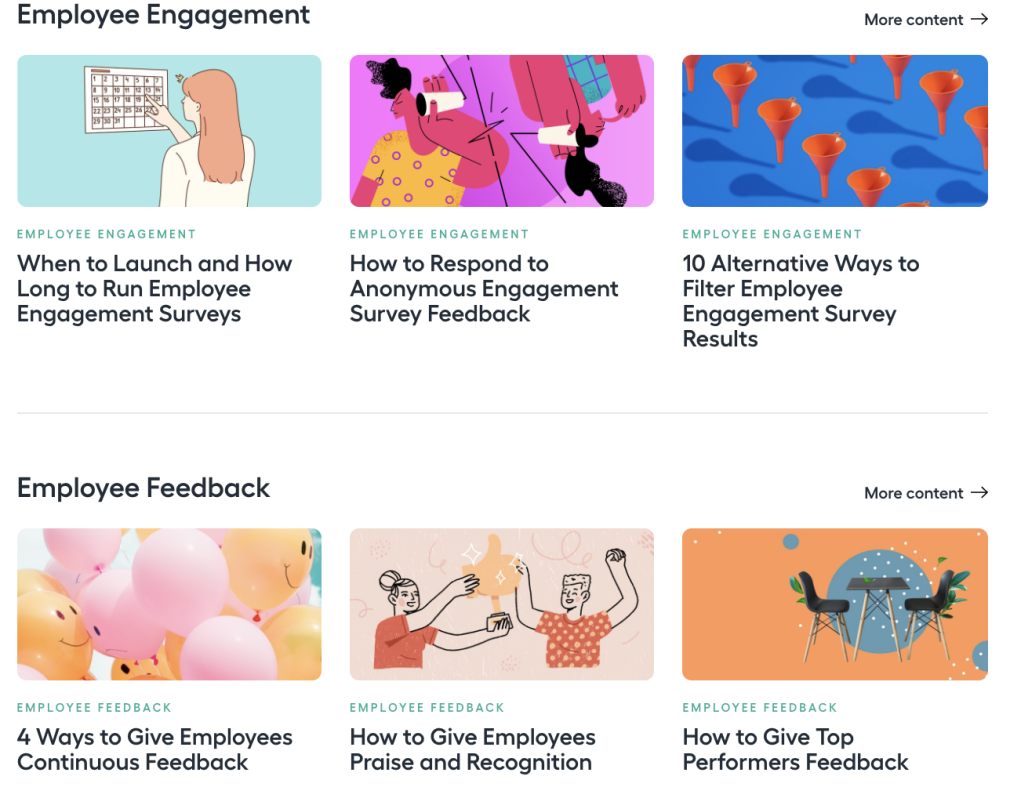 Lattice's tagline — Resources for Humans — is apt. The human resources-focused service offers HR teams the people management tools they need to do their jobs. The website puts their blog and webinars in pride of place, with a rich library of resources.
Why we like it
With over 278 thousand backlinks and more than 130 thousand organic website visits, according to Semrush data, Lattice is clearly producing content that resonates with its target audience.
Our top takeaway
Practical advice, diverse blog categories, clear design, and a community focus have given Lattice a huge advantage over their competitors.
14. Wistia — marketing software and content factory
Wistia creates marketing software, educational video series, and content to help people grow their businesses. Its B2B video content marketing dives deep into fascinating topics, capturing its target audience's attention and succeeding in creating an authentic video content hub that brings people back time and time again. That's no small feat.
Why we like it
Wistia has built an evergreen video content hub with several ongoing shows, staying true to the company's brand essence. By leveraging what they can do best — video marketing — the company is building authority and trust among larger audiences.
Our top takeaway
Wistia owes its impressive brand presence to quality video and engaging educational content. How can you help your audience achieve their goals through quality video content marketing?
15. Microsoft and Spirion
Spirion's whitepaper featuring Microsoft demonstrates "The ultimate combination for enabling end-to-end data security and privacy." It offers a deep dive into the topic, with eye-opening stats for anyone working in data security. The report goes on to make an excellent argument for why existing information protection solutions aren't currently effective enough.
Why we like it
The whitepaper has clearly done its job, resonating with the target audience and compelling them to action. According to the company, this campaign has generated over $3.4M in the sales pipeline.
Our top takeaway
Original research coupled with valuable insights can be a goldmine of information for your B2B customers. If you're solving a real problem for them at the same time, then it's a marketing tactic that can work well for you.
16. Unbounce Landing Page Analyzer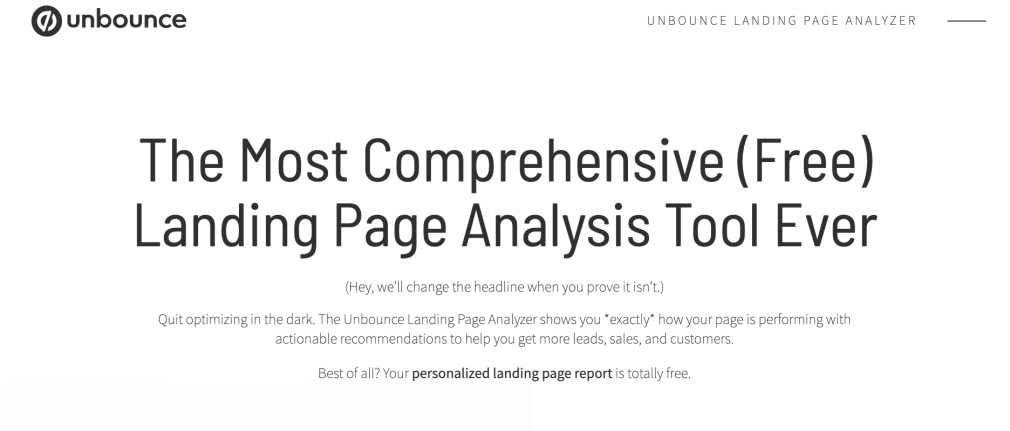 Unbounce has created a valuable B2B resource, helping businesses analyze, get recommendations and optimize their landing pages. The Landing Page Analyzer is something that can be used multiple times and always offers value.
Why we like it
The tool is a great B2B utility and shows potential clients what Unbounce can do for them in an interactive way. The tool has generated 980 backlinks as of May 2021, according to Semrush data.
Our top takeaway
Offering your audience a practical tool that solves a real problem generates interest, shares, and repeat traffic. It can turn into an evergreen lead magnet and link magnet for your brand.
B2C content marketing examples
These brands know their market inside out. Explore these examples and get some inspiration for your own B2C content marketing.
17. Parsley Health Guides
Parsley Health Guides help people solve various issues related to health and wellness with informative, visual content. This is a great example of how B2C brands can use content marketing for user acquisition at all funnel stages.
Why we like it
The guides include ebooks, primers, videos, and advice from professionals, among other pieces of content. Parsley Health has positioned itself as a trustworthy expert and clearly outlines what you'll get if you download their content. Another important feature is the short (email only) forms, which may boost the conversion rates.
Our top takeaway
Combine different media to appeal to your different audience segments and create a balanced combination of gated and ungated content offers.
18. Tomorrowland Around the World
Tomorrowland is a live music festival that went digital in 2020, after the pandemic hit. The previous year, it hosted 400 thousand attendees. After Covid-19 forced the organizers to cancel its regular face-to-face experience, it ran a special, Tomorrowland Around the World. Music fans all around the world were able to attend online and watch from the comfort of their own homes.
Why we like it
The event more than doubled its regular attendance, achieving over 1 million virtual festival-goers who enjoyed a 2-day digital festival with 8 stages and over 60 artists. Despite being a traditionally live event, Tomorrowland went through a 360-degree shift while staying true to its essence.
Our top takeaway
Tomorrowland gives its audiences a lot of entertainment value and is rewarded in turn with excellent engagement. It's a great example of how brands can adapt to the changing environment and keep delivering great experiences to their customers, no matter what.
19. Lemonade Insurance
Lemonade Insurance has a full-on content marketing plan, covering social media channels and blogging. Its website is ranking for more than 30.4K keywords in the US as of May 2021, according to Semrush data. However, that's not what we're most interested in. The company stands out among other insurance firms with a self-professed obsession with art.
Why we like it
To support its art insurance business line, Lemonade created content hubs featuring artworks of modern artists — including an Instagram account and a Medium page. Its #ConnectedByLemonade campaign commissions international artists to create art using the brand's signature pink color. Describing the initiative as "a chance to explore and celebrate creativity in all its forms", it certainly captures the imagination.
Our top takeaway
Lemonade asks you to "forget everything you know about insurance" on its homepage. This campaign certainly embodies that core brand value — being different. It creates content that inspires, generates buzz and, in doing so, presents an entirely new vision of an insurance company. How can your content show your values and creative side?
Creative content marketing examples
Off the wall and fun, these content marketing examples will get you thinking about what you could create for your website visitors. Just remember: It's all fun and games until you accidentally destroy a planet.
20. Eaton — My IT Galaxy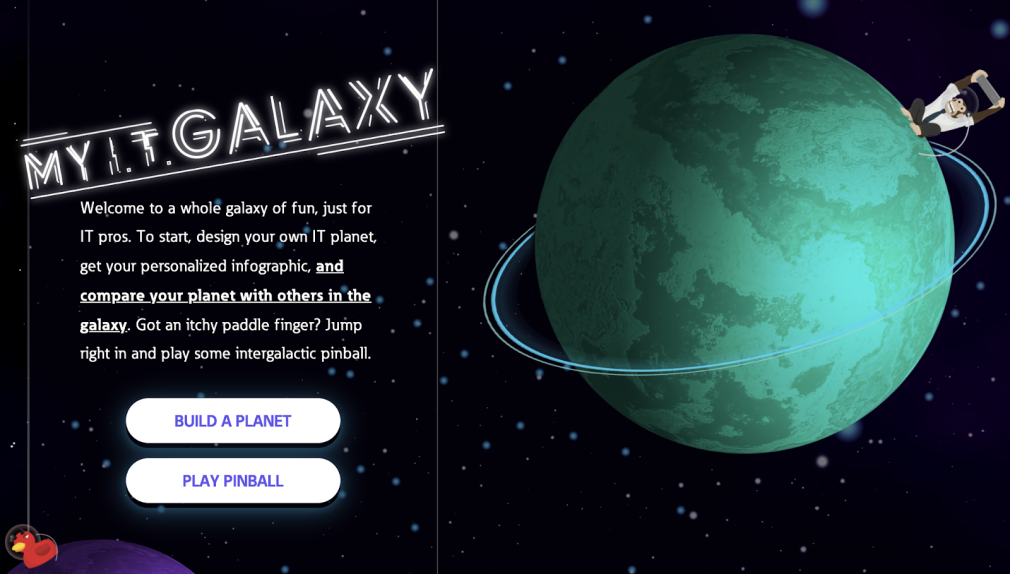 Who hasn't secretly wanted to build their own planet? Or rule their own galaxy? That's what Eaton lets you do. This creative and interactive interface is one of the most visual content marketing examples on our list and allows you to play around and become a world-maker.
Why we like it
The company did it best to create a great user experience with this tool and the whole concept is creative and unusual. More to the point, it's made for IT pros and this brand knows its audience well. Next time you feel like a serious B2B brand can't get out of the box, think about this example!
Our top takeaway
Sometimes your users just want to have fun — and highly shareable content like this adds a viral quality to your website.
21. Canva being creative (again)
Yes, it's Canva again — this time with a creative content marketing example. We loved this feature that allows you to generate a color palette from your own photos.
Why we like it
Color theory is not for the faint-hearted — and most of us are not designers. The generator makes Canva even easier to use — and diverts people away from competing options that don't offer such useful tools. Moreover, the page had 3,500 backlinks and generated more than 196 thousand organic page views a month as of May 2021, according to Semrush data.

Our top takeaway
Marketing isn't just about showing the benefits of your product, or educating people. It can also be about reducing friction and making their lives a little bit easier. That generates interest, backlinks, and impact. Listen to your customers — what are their top pain points? Can you solve them with a tool like yours?
22. Drift RevGrowth Summit
Drift's RevGrowth Virtual Summit is full of big industry names. It establishes expertise, authority, and trustworthiness for the website. Not only is this great for the brand, but it's also excellent for SEO.
Why we like it
In 2020, Drift showed how adaptable it was in the face of Covid-19. Unable to run its regular live event HYPERGROWTH, it took the conference online, inviting 19 other companies to present alongside them. It saw a lot of success, hosting more than 8,500 participants.
Our top takeaway
Conferences and events are an effective way to generate press, industry capital, and credibility. Drift has done an impressive job in partnering up with other companies to deliver a new conference under challenging conditions, bringing it all together in just over a month.
In an in-depth guide to running a virtual event successfully, Drift's Director of Events Janna Erickson recommends ensuring you offer content and value to the audience. She also explains it's important to have a good rapport with your partners and that you have a similar audience or ideal customer profile. At the same time, you need watertight lead-sharing agreements and a robust data protection policy in place.
23. Lenovo Customer Stories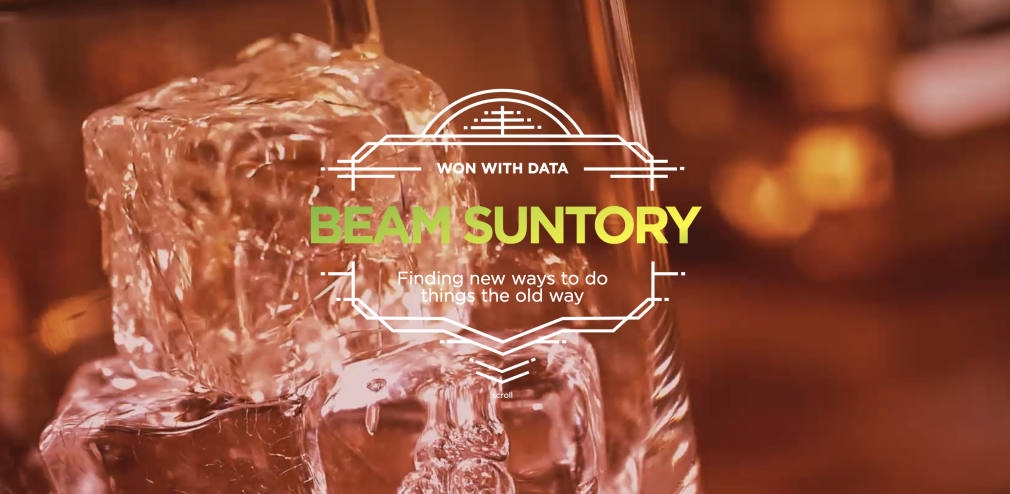 Lenovo does a great job showcasing its Beam Suntory customer story — highlighting how it serves them in the process; covering the company's objectives of staying true to tradition, while also transforming their technology by replacing outdated infrastructure.
Why we like it
Instead of opting for a more traditional case study, Lenovo uses video and sound to draw you into the story. Quite unusually, you also hear the customer speaking as you scroll. It certainly captivates interest and keeps you on the page.
Our top takeaway
Telling your customer stories in an authentic way and harnessing the power of sound, video and compelling images engages your audience.
Blogging content marketing examples
These blogging content marketing article examples will inspire you to sit down and start writing — we're sure of it!
24. REI Co-op Journal — grabbing the top of the funnel
Recreational Equipment, Inc. (REI) is a co-operative and ecommerce store for people who enjoy living their lives and playing sports outdoors. Moving beyond their product pages, their blog has high organic search traffic, reaching 347.4 thousand on the blog monthly, according to our analysis.
Why we like it
This is one of our favorite ecommerce content marketing examples. It's a content-heavy site, with more than 167.5 thousand backlinks pointing to the blog as of May 2021, according to Semrush data. It offers value and grabs the top of the funnel audience by harnessing high-volume search terms and offering in-depth information.
Our top takeaway
Keyword research and a good understanding of the topic areas your audience is interested in will help you capture those organic visitors.
25. Typeform — a great brand voice
Typeform is a SaaS online form maker. The Typeform blog offers strong digital marketing content writing examples covering startups, business, and tech, among other interesting topics. Its tone in particular is very appealing and succeeds in being simple to understand, friendly, and useful — this makes it stand out in a world of jargon-heavy B2B companies.
Why we like it
Typeform offers valuable B2B content, uses multimedia, and has an appealing design. Boasting over 52 thousand monthly organic visits on the blog alone as of May 2021, it's certainly well established.
Our top takeaway
A vast variety of top-of-the-funnel content ensures that Typeform both appeals to a returning audience and picks up new organic visitors.
26. Zendesk — an impressive content hub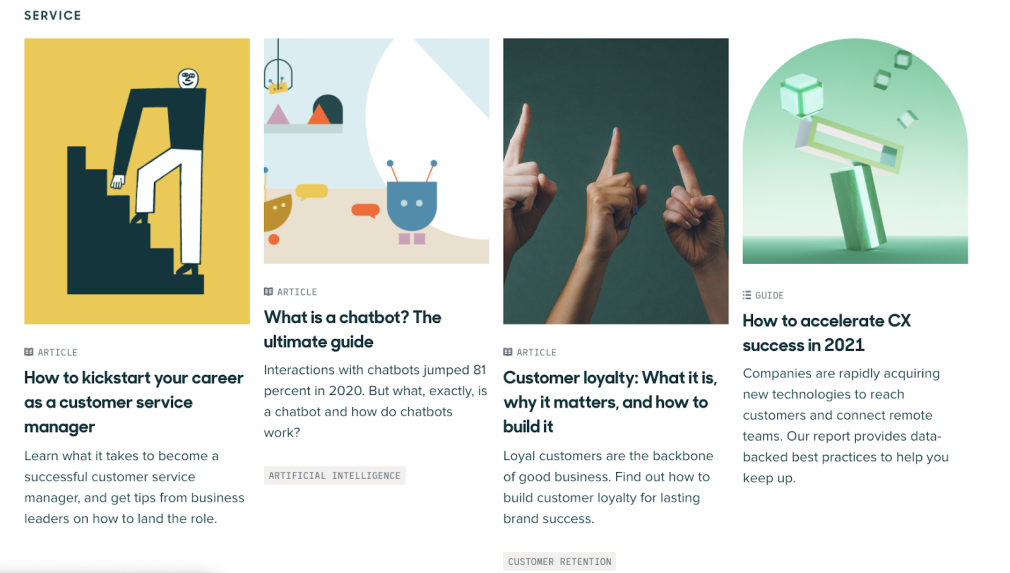 Zendesk's mission is all about making customer service better — an appealing proposition for many brands. Its blog boasts a wealth of guides, how-tos, and practical articles.
Why we like it
We love it. Zendesk's wide variety of formats meets a range of audience needs — and, as a result, it generates over 178 thousand in monthly organic traffic, according to Semrush data.
Our top takeaway
Zendesk's content is in-depth, structured for readability and features a variety of illustrative infographics, quote call-outs, and social media embeds. Can you follow their lead and structure your blogs and introduce visuals to keep people reading to the end?
Recommended Platforms to Look for Content Marketing Examples
We have looked at some fantastic examples of content marketing success, but new content marketing examples are always emerging. When it comes to keeping in the loop with what other people are doing you need to know where to turn to find inspiration.
We listed a number of recommended sources that we love who each share different types of content on a regular basis. If nothing else, they're great places to kickstart inspiration:
---
Taking your content marketing to the next level
Great content marketing strategy takes a deep understanding of your customers, a search engine optimization strategy, excellent writing and production — and a solid distribution.
But if you invest the time, energy, and resources into building an effective content marketing machine, you will reap the rewards in the long term. Just like many of the brands we have featured in this list of 26 best content marketing examples for 2021.
Source: https://www.semrush.com/blog/content-marketing-examples/
What's your reaction?
0
Smile
0
Shocked
0
Cool